Tatton Park 2014 - Knutsford, Cheshire.

Our 2014 show garden 'The Water Garden' at Tatton Park recieved a Silver Medal.
We would like to thank the students from Myerscough College and volenteers for their enthusiasm and help.
Rectory Garden Plants supplied all the colourful perennials for the 2014 show garden.
Ladybrook Nursery supplied all of our larger plants, trees and hydrangeas.
Woodstyle Joinery for the loan of the beautiful mustard pavillion.
We would also like to thank Dave and Rob for the loan of the marsh plants.
RHS Flower Show Tatton Park 2014 Medal Winning Garden - Silver
If you would like Harry to design your garden please call us on 0800 1950 556 or email info@thepondcompany.co.uk
Click here to view pictures of our show garden
Click here to download the show garden plant list.
Tatton Park 2013 - Knutsford, Cheshire.


Our garden 'The Water Garden' comprised of a waterfalls, streams, a beautiful summer house, oak swing seat hanging in an oak arbor, a patio using Marshalls Fairstone Sawn Golden Sandstone Paving. All this complemented with fantastic plants, tall trees, and coloured Perennials and a reed bed to filter the water.
RHS Flower Show Tatton Park 2013 Medal Winning Garden - Silver Gilt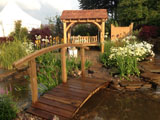 Click here to view pictures of our show garden

Tatton Park 2012 - Knutsford, Cheshire.

Following an impromptu visit to Fryer's Roses in Cheshire we at The Pond Building Company (trading as Aughton Green Landscapes) approached Fryer's Roses who have been recently taken over by The Blue Diamond Group with the hope of forging a beneficial working partnership between our two companies.
The first project we decided to tackle together was a show garden at the Tatton Park RHS Show 2012 and we can honestly say it has been a privilege and pleasure to work alongside such a professional organisation. While The Pond Building Company have exhibited at the show before with great success, the help and support from The Blue Diamond Group proved invaluable in securing a silver medal for the garden and having the BBC film the garden with presenters such as Monty Don and Carol Klein, following an extremely challenging build taking only 15 days and an awful lot of rain!
The garden took 13 tons of Rock and used a 1600 pump backed up with a 1500 hozelock pump, the second water feature used a 1600 pump. The garden featured structural plants and more vibrant perennials. The Pavilion was made from cedar wood surrounded by Indian flagstone.
Please have a look at our award winning garden below. Our website also showcases some of our other work. If you would like your garden designed by Harry or for any enquiries regarding our landscaping design and construction services please give us a call on 01695 422603 or 07860780011.
Tatton Park 2012 - Pictures